According to the PageGroup Confidence Index, confidence amongst job seekers grew by 40% from Q4 2015 to Q4 2016 across one of the most important measures – the ability to find a job within three months. 53% of candidates expect to find a job within three months compared with 38% in Q4 2015. Confidence about career development prospects improved by +20% whilst confidence about work-life balance and salary levels decreased by -15% and -16% respectively over the same period.
Candidates in the Swiss Romande are significantly more confident than their counterparts in the German-speaking region. 58% of candidates in the Swiss Romande expect to find a job within three months compared with 36% at the same time in 2015. This represents a year-on-year increase (between Q4 2015 – Q4 2016) of +62%. 47% of job seekers in the German-speaking region expect to find a job within 3 months compared with 39% in Q4 2015. This represents a year-on-year increase of +21%.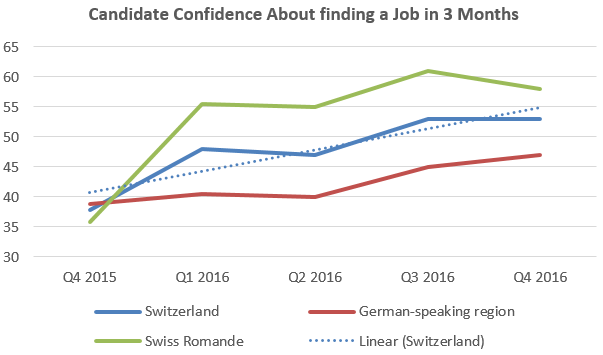 The study shows other areas of confidence, tempered with pragmatism:
More than two thirds (69%) expect to have better opportunities to development their skills over the next 12 months.
63% of the Swiss job candidates are confident about the future of the Swiss economy.
The majority (59%) do not expect to obtain salary increases over the next 12 months.
According to Xavier Chauville, Executive Director, Page Personnel, "The outlook for job seekers definitely improved over 2016 and we see continued strong demand in 2017 – especially for specialists in IT, sales, engineering, logistics and pharmaceuticals. Companies continue to increase their reliance on temporary and interim roles.  Qualified candidates, who are open to both temporary and permanent options and flexible about what is included in their total package, can be confident of finding the right job".
PageGroup
PageGroup is a worldwide leader in specialist recruitment which is listed on the London Stock Exchange (Stock Symbol: PAGE). Founded in 1976, it has been active in Switzerland since 2001 and operates through three key brands: Page Executive (executive search), Michael Page (middle to senior management) and Page Personnel (graduate and skilled employees). PageGroup has 152 offices worldwide including its' three Swiss offices in Zurich, Geneva and Lausanne.
PageGroup Confidence Index
The PageGroup Confidence Index measures the confidence of job seekers across continental Europe including Switzerland, Germany, France, Italy, Austria, Spain, Portugal, Turkey, Poland, Netherlands, Sweden and Belgium. The study measures job seekers' optimism about finding a new job, the likely duration of their job search, expectations about their professional circumstances and the economic environment as well as reasons for changing their jobs. It has been running in Switzerland since July 2014 and across continental Europe since January 2016. The study is conducted online, with candidates who have actively applied for a job via the Michael Page and Page Personnel websites. The study covered over 13,300 respondents in continental Europe in Q1 and 15,600 in Q2, including a minimum of 900 respondents from Switzerland each quarter. The study results are reported quarterly.